Weight Loss & Nutrition in St. George, UT
Synergy Massage & Personal Fitness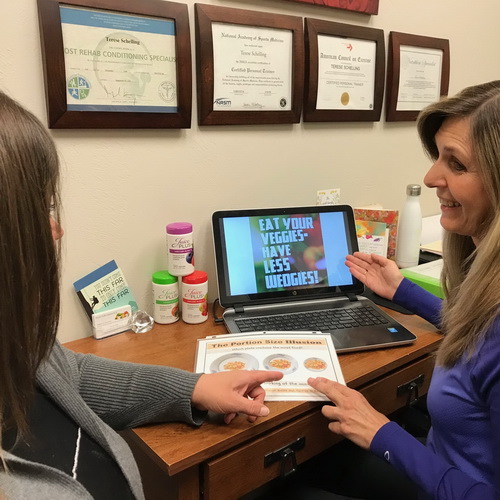 The most important piece of the puzzle for long term fat loss and a healthy lifestyle is Nutrition
Schedule a consultation with Terese Schelling, Certified Nutrition Specialist, and begin the process to determine the amount of daily calories your body needs to support your fitness level, as well as, discuss which foods provide the most nutritional value for sustained energy and quick recovery. Maintaining lean body mass during weight loss is extremely important to metabolism. You will simply provide Terese with a 3 day food log, your workout schedule, and a general health profile to find out if your diet is helping or hindering your progress in reaching your body fat percentage goal! With Terese as your accountability partner, receiving the continued support and education provided in follow-up sessions, you increase your rate of success in obtaining your specific weight loss or performance goal.
NUTRITION SESSIONS include:
1 Hour one-on-one individualized coaching session
3 day online food log review of present diet
Report detailing calorie and macronutrient recommendations
Sample meals plan ideas & daily diet guidelines
Pre & post workout options for optimal recovery, muscle gain, & fat loss
In-depth education on a variety of topics
60 min. Nutrition Consultation & Evaluation
$ 60.00
Affordable options and plans available.
Plans including Fitness training also offered.